Float Fit
FloatFit is een nieuwe tak van sport in het zwembad. Bij FloatFit lig je niet in het water, maar sta je op een met lucht gevulde mat op het water. De opblaasbare matten – AquaBases genaamd – zijn met touwen en elastieken aan elkaar verbonden, zodat ze niet zomaar kunnen wegdrijven.
Tijdens een FloatFit training gebruik je spieren waarvan je niet eens wist dat je ze had! Je bent immers niet alleen bezig om de bewegingen goed uit te voeren, maar moet ook continu je balans zien te houden op de bewegende mat. Dat maakt FloatFit een extra effectieve manier van trainen, waarbij je ook aan je core stability werkt.
Floatfit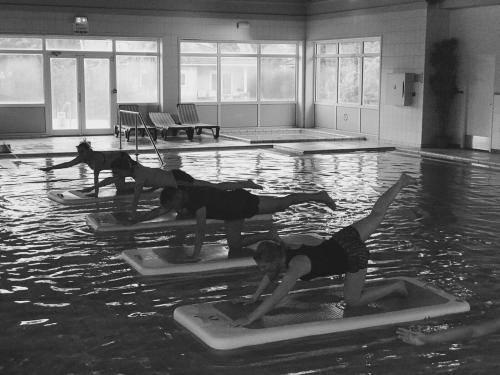 In our swimming pool we have started Floatfit in cooperation with Letsgosport.
What is Floatfit?
Floatfit is besides addictive fun, also very effective. Participants train their entire body with the work-outs with this special way of moving. On the aquabase, the first driving exercise mat in the world, participants perform various challenging exercises. Because the Aquabase is unstable, it immediately catches the imbalance in the body.
Up to 4 people take part in a lesson! The lessons can also be booked for private sessions, outings with colleagues or an activity during a bachelor day.
You can book the lessons via this link , here you can also see the training program
Have fun!
Prijzen: € 7,50 voor een losse les voor een kind en €12,50 voor een losse les voor een volwassene.
Indien je wekelijks de lessen wilt volgen kan je kiezen voor een abonnementsvorm of een rittenkaart. Deze lessen zijn dan 10 euro per keer. Een proefles kost 5 euro.
Wil je graag een keer een les bijwonen? Download dan de app "pay n plan" en vind mij onder de naam "Enjoy Sports and Food" of stuur een berichtje via 0650227305 /pt.claudia@hotmail.com
FloatFit for kids kinderfeestje
Naast de reguliere FloatFit lessen kan er ook een FloatFit for kids feestje geboekt worden op zaterdag- of zondagmiddag of in de schoolvakanties. De kinderen maken dan kennis met FloatFit, maar doen daarnaast ook leuke spelletjes in en rondom het zwembad. Tot slot mogen ze vrij zwemmen en kan er ook gekozen worden om te zwemmen met een zeemeerminstaart. Er kan gekozen worden voor een feestje van 1 uur of een feestje van 1,5 uur met een maximum van 10 kinderen. Naast het zwembad ligt een restaurant. Hierdoor kunnen er ook totaalpakketten aangeboden worden voor een Floatfit for kids feestje inclusief taart en cadeautje of een Floatfit for kids feestje inclusief cadeautje en pannenkoek of patat. Stuur een mail naar pt.claudia@hotmail.com of een appje naar 0650227305 voor meer informatie.